About us
Vision
"Education is the art of making
man Ethical"- George Wilhem Friderich Hegel.
Karthi Vidhyalaya Public School aims to be a leading Shools in Central Board of Secondary Education which provides avenues for holistic development and creates globally responsibility citizen.
To integrate technology in education in a poised manner so that our students are empowered to complete with the world with social and global consciousness.
Mission
"The whole purpose of Education is
to turn mirrors into window".- Sydney J. Harris
To nurture diverse talents in the varied form of art, dance and sports in addition to excellent academic prowess, thus promoting the all-round development of each child.
KVPS is a culturally rich mosaic which aims to prepare the KVPians to be knowledgeable, innovative, empathetic lifelong learners with inter-cultural understanding.
To initiate a systematic transformation in School Education by measuring the improvements in learning levels feasible by pedagogy practices with high accountability.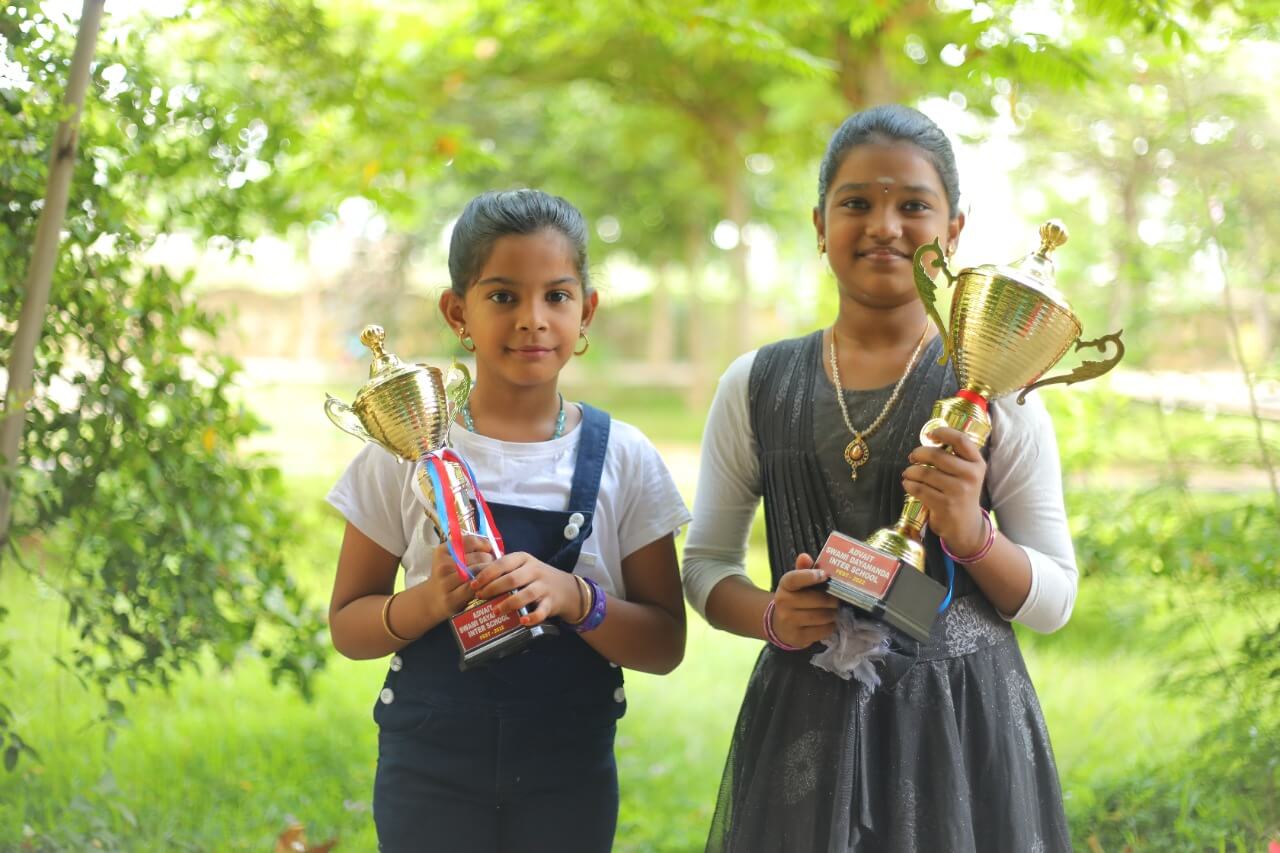 EDUCATION
E – Energy
D – Discipline
U – Unity
C – Confidence
A – Aim
T – Talent
I – Interest
O –Opportunity
N – Nationality
VALUES
Empathy & Humility
Integrity & Ethics
Equity & Integrity
Team work & Excellence
Responsibility
CORE VALUES
K nowledgeable with well versed & proficient
A mbition to achieve the goals
R espective in heart and deeds
T houghtful to be focused on being well mannered
H onesty in thought and action
I nterestive to be an adventurous innovator
A ccountability for one's own action & in actions
N obility to inspire
S incerity as the key to success
And overall LEADERSHIP is to lead, inspire and follow what I right.
We motivate the student to meet the challenges with Confidence and Enthusiasm and also encourage them to become passionate, life-long learners within a diverse and supportive community.
GOAL
"Intelligence plus Character that
is the goal of True Education". – Dr. Martin Luther King.
To foster a variety of academic and non-academic knowledge, skills and abilities, this may help students in successful transition. A study shows that the Shools that constructs goals and follow them effectively to be more successful than others.
DIRECTION
"The direction in which education starts a man,
will determine his future life" – Plato
The performance of the students also improves in those Shoolss that have fixed goals, and the entire Shools is working for it. Educating with good values of Education is the first step for people to gain the knowledge, critical thinking empowerment and skills they need to make the world better.
TO EDUCATE
"The great aim of education
is not knowledge but action" – Herbert spencer
We provide the students with a balanced academic, sporting and aesthetic education and also to nurture supportive and constructive student – centered learning in an increasingly interconnected world.
TO ENLIGHTEN
KVPS fosters the development of responsible and caring world citizens which further empowers the students to succeed in an ever changing world. "We engage parents and the wider community in a meaningful and co-operative partnership.
Warm wishes to all…
"Student is not a vase to fill,
But is a fine to lit".
Karthi Vidhyalaya Public School is built with an endeavour to establish quality conscious Shools where excellence is driven by values. Success is strengthened by ethics and Modernity is fortified by tradition.
We at KVPS, truly believe that each student has inherent potential and is for the institution to bring out. We are aware that learning is a life long process and, therefore, Students are motivated to challenge the hidden potential.
With our broad curriculum spectrum coupled with system of individual attention to the potential of each student. We expect each of our student to gain excellence in various fields of International benchmark. We are sincerely committed to educate and bring up an emerging generation who possess a global perspective and will be positive contributors to the community as a whole.
To my mind an educational institute is not just about bricks, mortar and concrete, but about building character, enriching minds and providing varied experiences that lasts a life time.
Looking forward once again to your constant support, participation and co operation to bring out the best in your ward, to enable them to be filled with human virtues of Creativity, Brotherhood, |Patriotism, Discipline and Best morals.
My Best wishes to all…
Dear all…
" Education is not the learning of facts,
but the training of the mind to think". – Albert Einstein.
I extend to you all a very warm welcome to KVPS. I hope that this initiation will assist in enchancing the Shools culture furthering the Shoolss growth and evolution, enabling it to interface with the networked world for efficiency and effectiveness.
Education is one of the means to transmit the light of life and spread the radiance of it in the ambience in which we live.
With our motto," Let your light shine". We aim at the integral development of each student under shade of Karthi Vidhyalaya Public School and lay a lot of impetus on honing every aspect of child's personality that works towards nurturing the child into a happy and well equipped human being.
The Shools has its clear vision and mission objective. In order to accomplishes our vision and mission. We believe that education is an effective medium of social transformation.
We get encouragement, looking at bright and successful carriers of our thousands of students, who subsequently benefit the society. We feel proud that we are part of such an institute, which is shaping the future citizen.
Our Shools cares for the individual development of each and every student. We accord prime importance to the Behavioral Discipline, Moral Integrity and Cognitive Developments of our students. Our teachers strive to teach not only academic programmes but also life skills needed for students self development with highly resourceful faculty.
The reputation, the Shools has acquired and established over these years is due to the dedication and selfless commitment of teachers. Supporting staff and the students with the support of the management and staff our students explore, express and Excel academically and creatively. I appreciate the dedication and the selfless service of the Teachers of the part and the present and wish them all, best of fortune, peace and prosperity for their contribution to the noble task of spreading education and its manifest qualities, aims and objectives.
Be a successful citizen…